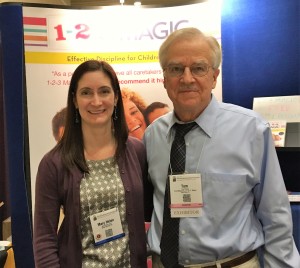 Happy spring everyone! After running into one of my "professional superheroes" at a recent conference, I decided to highlight a few of my favorite parenting books in the spring newsletter and blog. Since 1-2-3 Magic has been a staple of my recommended parenting resources for some time, I was excited to learn about the recently published sixth edition, and yes, I unabashedly asked for a photo with the author, Dr. Thomas Phelan.
1-2-3 Magic (6th Ed.) is a discipline program for children ages 2 through 12 written by Dr. Thomas Phelan that has been well-loved and widely used since the first edition was published in 1995. There are a number of features I like about the program. First off, it combines a nurturing attitude with firm expectations for behavior. The basic program is a structured, step-by-step approach involving learning to control behaviors that you want to stop (e.g. whining, disrespect, sibling fighting) and encouraging behaviors that you want to start (getting ready in the mornings, doing homework, bedtime routine). Second, the tone of the book is written in a very matter-of-fact, down to earth manner, with examples and dialogues to illustrate how the program works. The book is also available in multiple formats including audio and video. The chapter on avoiding the two biggest discipline mistakes: too much talking, and too much emotion, is particularly useful. I also appreciate Dr. Phelan's section on strategies for strengthening the parent-child relationship towards the end of the book.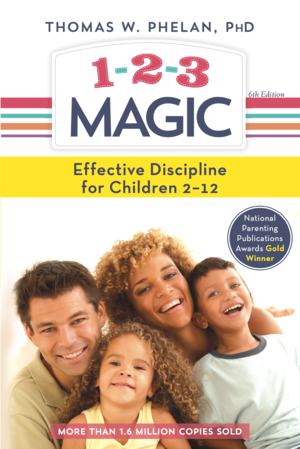 The second book I'm highlighting is No Drama Discipline by Dr. Daniel Siegel. It provides a context for understanding a child's behavior through the lens of neuroscience and highlights the role of biology in children's behavior. When we are able to re-frame behavior by looking at the underlying biology, it can be helpful in creating perspective and the space to not take children's misbehavior so personally. By doing so we increase our capacity to respond calmly, rather than react based on our emotions. As a side note, I really like that the authors provide their own tales of parenting mistakes, so that everyone can rest assured knowing that even professionals who write books on discipline goof up in pretty major ways! We are all human, after all.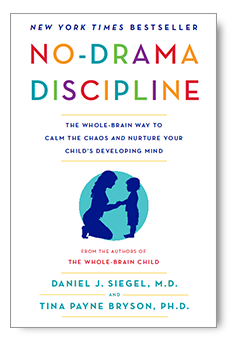 The last book is less about specific discipline strategies or techniques, and more focused on viewing the task of raising children through a mindful lens. In Dr. Carla Naumburg's Parenting in the Present Moment: How to Stay Focused on What Really Matters, she shares her personal journey of using mindfulness training to help her be a better parent from the inside out. She shares wonderful strategies for development of skillful attention and grounding yourself to what really matters in the chaos of what can be day-to-day parenting at times. I really like the emphasis this book has on self-care for parents, and development of self-awareness and one's own skills for emotional regulation as a precursor to teaching or expecting these skills from our children. How can we expect children to develop these skills without modeling them ourselves?